About Us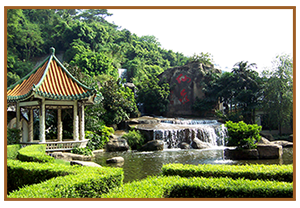 Entitled by the National Tourism Administration as a "4-star Hotel Concerning Foreign Interests" as early as 1990,the Century Hotel is made up of carved fences and jade buildings with antiquity.It has become one of the "Top Ten Beauty Spots in Shunde"with its unique Chinese appearance design.In the past years ,it has received many state leaders and social celebrities,which has greatly impressed the people of all circles with the Shunde District.
Located in the Shunfeng Mountain Resort with picturesque scenery,the Century Hotel is beside the mountain and the lake with tranquil and natural surroundings.Suitable for all kinds of business,it can free you from the urban noise during meeting.
Choose the Century Hotel,and you will appreciate the attractive watery region scenery in shunde,experience the city liveliness and prosperity and enjoy a carefree and happy holiday at tht same time.
The famous Shunde Cuisine comes from Fengcheng,and all classic Shunde dishes gather in Century Hotel as an assembly of the essences of eating and drinking from all over China and even the world.The delicacies perfection is fully rendered in the Century Hotel,where both hosts and guests can fully enjoy the lineal western food,self-service food or exquisite western cakes,classic Cantonese cuisine,Shunde accent dishes,Japanese cuisine,leisure and enjoyable afternoon tea,cocktail,lavish and exquisite dinner party.Both large and small halls and boxes are in elegant and antique design,combined with the exquisite foods of different local styles,which shows the Sino-foreign eating and drinking styles and creates the unique Shunde style and dining atmosphere.
The Century Hotel has 262 deluxe rooms,whose decoration and furnishing integrate the traditional oriental esthetics and the western technology featured by comfort and convenience.All rooms have broad balconies giving a full view of the whole Shunfeng Mountain through the window.We provide room service and multiple options,including the digital TV,movie channel,Internet access and personal coffer,so as to enable all our guests to enjoy the extremely noble service as with a state guest.
After newly decorated,the Century Hotel will launch the business floors on the 9th and 10th floors with unique design,which will give you double tranquility and joy.